GARDEN CITY, NY – November 8, 2019 In celebration of the 50th Anniversary of Apollo 12 (Nov 14-Nov 24, 1969), the Cradle of Aviation Museum and Education Center is celebrating the accomplishments and work of Apollo 12 Astronaut and Artist, Alan Bean, with an art exhibit featuring reprints of select Apollo-themed paintings and a free lecture on November 20, 2019 at 7pm from Alan Bean's wife, Leslie, about life with Alan. Reservations for the lecture are recommended and can be made by calling 516-572-4066.
About Alan Bean's artwork When Alan Bean returned from his Apollo 12 mission, he often found it difficult to describe the beauty of what he saw in space. Encouraged by his fellow astronauts, he began painting his experience on the moon, eventually becoming a full-time artist. "I was fortunate to be the first artist with the opportunity to be in the center of the action to capture what I saw and felt, and bring it back to earth to share with generations to come. It is my dream that on the wings of my paintbrush many people will see what I saw and feel what I felt; walking on another world some 240,000 miles from my studio here on planet earth. " said Bean on a personal statement on his website. His artwork "evolved into a mixture of painting and sculpture, textured with my lunar tools, sprinkled with bits of our Apollo 12 spacecraft and a touch of moondust from the Ocean of Storms" said Bean.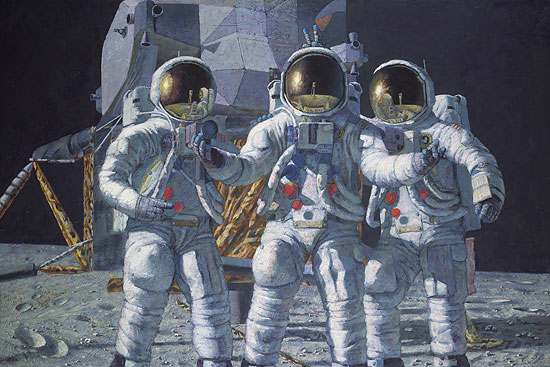 "Conrad, Gordon, & Bean – The Fantasy"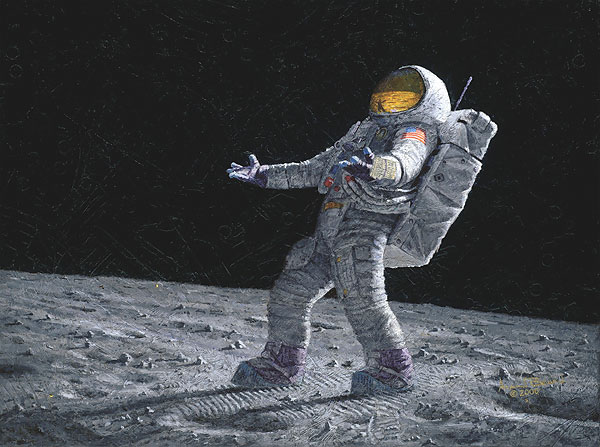 "Is Anyone Out There?"

"Houston, We Have a Problem"
About Leslie Bean Leslie Bean has spent her life advocating for those who may not speak for themselves. She created and directed Patient Advocacy in the University of Texas M.D. Anderson, Cancer Center, co-founded the Clinical Ethics team, and other patient centered value-added programs, created employees morale program, and spoke nationally on dynamic conflict resolutions to create win/win outcomes. In a family statement after Alan's passing in May 2018, Leslie said of their 40 year marriage, "Alan was the strongest and kindest man I ever knew. He was the love of my life and I miss him dearly."  
About Alan Bean Bean was born in Wheeler in the Texas Panhandle, and grew up in Fort Worth. He dreamed of becoming a naval aviator and began his flight training at 17. He graduated from the University of Texas with a degree in aeronautical engineering. A test pilot in the U.S. Navy, Bean was one of 14 trainees selected by NASA for its third group of astronauts in October 1963. He flew twice into space, first as the lunar module pilot on Apollo 12, the second moon landing mission, (and the fourth man to walk on the moon) in November 1969, and then as commander of the second crewed flight to the United States' first space station, Skylab, in July 1973. In total, Bean logged 69 days, 15 hours and 45 minutes in space, including 31 hours and 31 minutes on the moon's surface. Bean retired from the Navy in 1975 and NASA in 1981. In the four decades since, he devoted his time to creating an artistic record of humanity's first exploration of another world.  Alan Bean was honored at the Cradle of Aviation Museum with the Spirit of Discovery Award in November 2017, just a few months before he passed away in 2018.
About Apollo 12 November 14 – November 24, 1969. Launched just four months after Apollo 11, 'Pete' Conrad and Alan Bean performed just over one day seven hours of Lunar surface activity on the Moon's 'Ocean of Storms', while Richard Gordon remained in Lunar orbit. Unlike Apollo 11, Apollo 12 achieved a precise landing at their expected location, the site of the Surveyor 3 unmanned probe. On one moonwalk they visited the old Surveyor and removed some parts for return to Earth for analysis. Currently on exhibit is Apollo 12's protective cover from Navigation Sextant in Command Module, left in place when not in use.
The Cradle of Aviation Museum and Education Center is home to over 75 planes and spacecraft representing over 100 years of aviation history and Long Island's only Giant Screen Dome Theater.  Currently, the museum is celebrating "Countdown to Apollo at 50" sponsored by the Robert D.L. Gardiner Foundation, showcasing Long Island and Grumman's significant role in the Apollo program. The Museum was recently recognized and listed on New York State's National Register of Historic Places as a significant part of American history. The museum is located on Museum Row, Charles Lindbergh Blvd., in East Garden City.  For more information call (516) 572-4111 or visit www.cradleofaviation.org.  ###
Photos for Download
Credit: www.alanbean.com